About Flooders Gallery
Flooders is a Scottish gallery exhibiting handmade furniture in carved and sculpted wood forming unique tables, bowls, chests, mushrooms, fruit, chests, candle holders and sculptures by Ron Noble as well as original Scottish paintings by Karin Lamont. Flooders Gallery is located in Flooders Croft which is also home to Ron Noble and Karin Lamont. Flooders Gallery is a Scottish gallery that has something different to offer you. Not only is it a gallery, it is a living, working artists' retreat. Ron's woodcraft and Karin's paintings both take direct inspiration from their native Scotland which is reflected in their work. Visitors are made welcome at Flooders Gallery but as this is a working gallery it should be by appointment. See contact page for details.
Ron Noble - Artist and Craftsman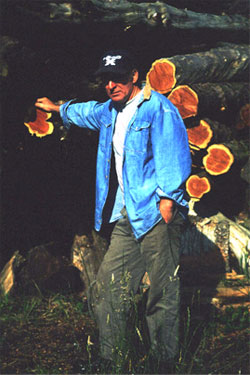 Ron Noble is an artistic wood carver and furniture designer who was born in northern Scotland. His love for Scotland inspired him to work along side nature itself using a variety of exotic wood, such as ebony, black boy, and manzanita as well as native elm, beech and oak. His true passion lies with the Scottish burr elm, which dramatically compliments his artistic flair. He is able to bring out the natural beauty that you will see in his hand made wooden tables, bowls, mushrooms, fruit, candle holders, sculptures, chests and other pieces.
Today the finest burr elm is found only in Scotland. The burr that you will see has taken at least 200 years to mature to this quality. Sadly the Italian veneering industry has played a major role in the burr elm extinction.
What you can see at Flooders Gallery is a unique and fast disappearing craft. The natural edged carvings that nature has created has been taken straight from the trees. Using oils, waxes and his creative eye Ron sculpts unique historical masterpieces.
All the wood that Ron uses is from naturally dead trees. No live trees are cut for his work. The burr woods that Ron uses are becoming rare. The opportunity to work these woods and the chance to own items made from these woods is unfortunately disappearing.
Karin Lamont - Pastel and Acrylic Artist
Karin Lamont, born in the Scottish Highlands has lived for the last 20 years on the island of Iona, West Coast of Scotland. It is here that Karin's art was influenced by what she felt and saw. She is now an artist in residence at the world respected Flooders Gallery in the Scottish Highlands. A "mixed media" of acrylic and pastel paints, create an array of movement and texture within her original work. The bold use of color and the moods of nature itself is reflected in her paintings.
This, along with the striking simplicity of line has a dynamic element. Her work captures the magic and mystery of one of Europe's last and greatest wildernesses.
She has exhibits at Carthouse on Mull, recently at Hawick, a one person show at Fort William and Gallery Heinzel, Aberdeenshire. Please check the Paintings page for a current update.